Far North Wilderness Bike Tour
Dates for 2022 to be announced
Registrations to open soon!
Nothing else like it …
Here it is! The new 6-day format of the Far North Wilderness Bike Tour! The route will concentrate on the northern part of the famous Atherton Tablelands with a focus on showcasing the beautiful World Heritage rainforest of the Wet Tropics, south of the Daintree River in North Queensland.
Organisers have planned a gorgeous scenic cycling experience through some of the most beautiful parts of the Far North, with lush tropical rainforest, cool waterfalls and freshwater creeks. In response to rider feedback, the tour has been shortened and the riding less technical and demanding while still exciting enough to appeal to a wide range of riders. This is certainly a 6-day trip of a lifetime through some of Far North Queensland's best scenery on wilderness mountain trails.
So what keeps so many riders returning year after year? It must be the capped numbers, friendly crew, fabulous food, camaraderie and most of all the spectacular scenery. Book now for six days of awesomeness!
Nothing else like it …
Subscribe to our newsletter to get the latest news and updates!
2021 COVID-19 Update:
At this stage, we are full steam ahead with the Far North Wilderness Bike Tour. We are hopeful that an event like ours; outdoors, in remote areas and with less than 50 participants can continue, but as we have seen, things can change very quickly. However, should the event be cancelled due to Australian or Queensland Government COVID-19 restrictions, the following revised refund terms will apply:
A full refund will be given if the event is cancelled due to COVID-19, or due to associated travel bans you are unable to make it to Cairns. The decision to cancel the event will be in accordance with the advice from the Australian or Qld Government at that time. No refunds will be given once the tour commences.
A full refund will not be given as a result of a change in mind or personal circumstances – our usual Refund Policy will apply in these cases
Tracey Hannah:
Australia's #1 Downhill Mountain Bike Champion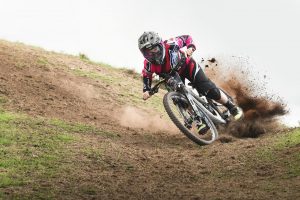 "The CAFNEC Far North Wilderness Bike Tour is a great opportunity to hit the tracks in the wild country of FNQ. This Mountain Bike ride takes you on an adventure through unique trails and private properties that are otherwise inaccessible. A self-paced ride, it is great for a range of riders starting from those with some off-road experience through to the those requiring extra challenges. You can ride with a friend or with a group and your support crew is there morning, noon and night. With great food, incredible atmosphere and spectacular scenery, this is a must do ride for any cycling and environmental enthusiast."
Click here to read more testimonials
Our unique bike tour is a charity event that includes:
Approximately 350km on mostly comfortable dirt roads and tracks with low traffic

6 days of supported riding and camping

Spectacular scenery in hard to access locations

An intimate and friendly ride with a maximum of 45 riders

Home-cooked meals, cakes and biscuits, and a well-stocked bar

Support for the important work of th

e

Cairns and Far North Environment Centre (CAFNEC)

Check out the video from the 2019 tour to get you excited!
CHECK US OUT ON

https://www.facebook.com/FNQBikeTour/