While the 2018 route has not yet been finalised, it will be similar to the 2016 route (see below) but with new twists to keep return riders on their toes! The very popular Savannahlander Train from Mareeba to Cairns on the last day also makes a welcome return!
2016 Ride of The Four Gorges
DAY 1:
Stage 1: Mission Beach to Alligators Nest (near Tully);
Stage 2: Cardwell to Kenndey
Stage 1: After a leisurely bus trip from Cairns to Mission beach there is an easy and very beautiful ride to morning tea and lunch. A sandy trail at the back of the beach, in North Mission, leads to a winding and undulating bitumen road skirting small bays and coastal headlands with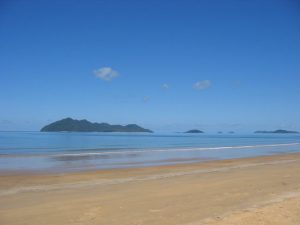 views of the Barnard islands and the sparkling tropical sea. Then veer inland for the WW1 soldier settlement town of El Arish. The vista incorporates agricultural lands and steeper forested hills of the coastal floodplain, to the steep forest-covered mountain ranges in the distance and possible views of Queensland's two highest mountains (Bartle Frere and Bellenden Ker). The Bruce Highway is crossed at El Arish, for a quieter local service road south to Alligators Nest swimming hole on Bulgen Ck, and lunch. Bikes are re-loaded to trailers for another bus journey, to Cardwell.
Gradient: small hills, mostly undulating to level
Distance: 43 kms
Surface: <2% sand/dirt
Conditions: some components on local roads subject to open road speed conditions (ie. 100 kms/hr); one highway crossing
Stage 2: Ride recommences at the Coral Sea Memorial near the beach on the northern outskirts of Cardwell. This gives riders the opportunity to view the pretty town devastated by Cyclone Yasi in 2011, and the restoration since effected. The ride travels along the Hinchinbrook channel along the newly constructed bike path. There are stunning views looking out to Hinchinbrook Island. Exiting town, the ride proceeds on mostly dirt back roads to Kennedy via vast areas, formerly exotic pine forest, also destroyed during the cyclone and transition to agricultural land.
Gradient: one hill.
Distance: 20 kms
Surface: 40% dirt
Conditions: one highway crossing & back roads
DAY 2
Kennedy to Blencoe Falls
T
his day is a real cycling challenge with a 64km mountain range to climb in order to get to the picturesque Blencoe Falls. Fortunately, there are a number of lookout points along the way with spectacular views, interpretive signs of the history of Indigenous land use and European settlement and a swimming spot or two to break the journey.
We will ride through the Girrungun National Park on the Kirrama Range road. The first 8kms is on a minor sealed road along the floor of the Kennedy Valley. The Range Road then starts, a long climb for around 20kms on gazetted dual track unsealed road before "levelling out" on to undulating open forest country. This ride features some beautiful rainforest, but sadly in some places if offers the opportunity to see the effects of 2 large cyclones, Larry and Yasi, on this beautiful World Heritage area. The road is built into the side of a mountain range so we pass a number of waterfalls and rocky rainforest creeks cascading down the mossy rainforest slopes and disappearing below the road. There is a lookout providing exceptional easterly views on to the Hinchinbrook Island massif and later a view looking north over the cane and cattle country. We enter open forest country of tall eucalypts through which a distant mountain range can be seen. A number of signs on the road provide local context and interesting information about its construction and history.
The campsite is right on Blencoe Creek which literally falls in to the Herbert River, clear water with beautiful rapids and long still pools for a swim. From here there are walking tracks to view the gorge and the falls.

DAY 3
Blencoe Falls to Goshen Station
If time allows in the morning, take a side trip to see the spectacular Blencoe Falls and have a swim. We then begin our journey through the dry country which takes us from the lowland Cardwell rainforest to the highland rainforests of the Tablelands. But this is rewarding day – from swimming hole to swimming hole. As riders continue west, initial hills and gullies soon give way to flatter country. Camping is on Goshen Station on the Herbert River. For those looking for a further challenge, a return undulating trip to the breath taking Herbert River Falls and Gorge is an option. This is truly spectacular wild country.
DAY 4
Goshen Station to Ravenshoe
A long smooth ride on mainly flat terrain through cattle country with a few hills at the end of the day. This is your opportunity to pedal hard and let the kilometers fly by. Pleasant shady spots to stop for breaks.
DAY 5
Ravenshoe
With the luxury of our camp in Queensland's highest town for 2 consecutive nights, riders have the opportunity to explore the township, swim at the delightful and nearby Little Millstream Falls, develop some 'climb legs' by riding for Koombooloomba Dam and Tully Falls &/or other guided rides (eg. to McKenzie Falls), or just take things easy and catch up on washing and emails and coffee in the cafes of Ravenshoe.
DAY 6
Ravenshoe to Atherton
Riders will find this day's ride (approximately 70 km), involves traveling through some of the most diverse country of the ride. This year the ride commences with a delightful new route out of Ravenshoe to avoid travel on bitumen. Exiting the SW outskirts of town, the route follows a rough 4WD track through forested narrow valleys with a number of potentially dry creek crossings and over low ridges. As terrain and vegetation patterns abruptly change, the route encounters a small historic cemetery. Continuing north we ride among tall trees via a narrow road reserve with pastoral properties either side. Eventually, more developed property access tracks are encountered, then local access roads are ridden to join the regular but enjoyable route via Kaban, Old Keban, Stewart and Flaggy Creek roads toward Wondecla. Although undulating, it's basically a descending ride. Shortly before Wondecla, the route joins a regional service road.
Following morning tea at Wondecla, there is the steady climb eastwards to firstly Halls Fall, for a swim, and then a rough and exhilarating descent into the headwaters of the Upper Barron catchment.
Lunch taken, and a swim, at Moses Pool, before riding a newly incorporated section toward Atherton. Initially, a rough firebreak 4WD track (with small rises and descents into/out of rocky creek crossings) separating State Forest and agricultural land, then local access roads servicing rural retreats and a large quarry are followed. A significant stretch of bitumen is followed to the potentially busy Atherton-Herberton Rd. The ride diverges from this briefly, for afternoon tea at Hasties Swamp bird watching hide, and then returns to the main road for the short stretch into Atherton. The town centre is avoided by riding the Rail Trail to its northern cessation, before a short ride through suburbia to our camp on a farm adjoining the north-west outskirts of town.
Gradient: small climbs/descents and a long climb with a big descent of range country
Distance: [currently not determined]
Surface: 70% dirt
Conditions: small hills/descents with dry creek crossings, dirt tracks & roads, bitumen; some components on regional roads subject to open road speed conditions (ie. 100 kms/hr)
DAY 7
Atherton
A full day is allocated for participants to enjoy the mountain biking attractions at Atherton. The acclaimed Atherton Mountain Bike Park is located just to the west of town in the Mt Baldy area and has a well-designed and marked trail network. Riding at the MTB park will require acceptance of individual responsibility considering personal ride skills, riding within a self-organised small group taking individual and collective care, and carriage of at least one mobile phone within the group. Alternative rides are being considered and may include a guided ride of what locals term 'the inner Mt Wallum route' &/or possibly a circuit of the cross-country route followed during a past staging of the Australian National MTB series. Alternative attractions include the How Wang Chinese Joss House and local coffee shops etc.
Conditions: Atherton MTB Park trails range from beginners level to difficult, and should be ridden according to individual skills and experience levels.
DAY 8
Atherton to Mareeba
The initial section involves regaining the Atherton Rail Trail on the north side of town, for a fast ride to the northern outskirts of Tolga Township. The route then veers eastwards for the Kauri-Tinaroo Rd road, following zig-zags left and right on a network of narrow, dirt and bitumen back roads servicing local agricultural properties. While apparently flat, there is a slight rise to a low crest and strong headwinds may be encountered. Once again, distant vistas may include views of Queensland's two highest mountains. Note also the more proximate massif roughly to the north-east, the objective soon for the ride to traverse its low foothills, followed by the eventual and continuous descent into Mareeba. Before that however, a lovely morning tea break in Tinaroo. Late lunch at Rotary Park in Mareeba, where bikes are loaded to trailers. The Savannahlander train is boarded 400 metres away, down Railway Ave and departs at 3 pm. The train journey offers the opportunity to relax with a drink and enjoy the scenery. The train stops at the scenic township of Kuranda and the spectacular Barron Falls and Gorge, before descending down the edge of the Gorge before reaching cairns. This is a great engineering feat with many tunnels and stunning views into the gorge. The train will let us off very close to CAFNEC so it will be a short walk to the bikes, your luggage and light refreshments. Riders can then ride to your accommodation and we will arrange to transport your luggage if you wish.
Gradient: undulating, small hills and one range to climb
Distance: [currently not determined]
Surface: 60% dirt
Conditions: 2 highway crossings; some components on local roads subject to open road speed conditions (ie. 100 kms/hr); rough bush track followed for a considerable distance; rocky creek crossings