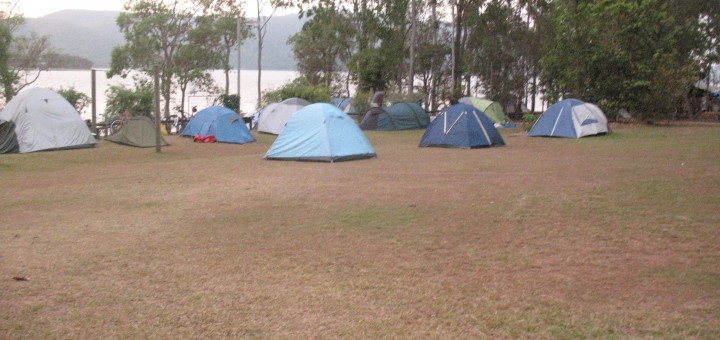 LUGGAGE
Luggage may be dropped at the Cairns and Far North Environment Centre (CAFNEC), 27-29 Greenslopes Street, Edge Hill, CAIRNS from 9am-4pm on the Friday prior to the start of the event.  On the last day, luggage will be available for pick up from approximately 3pm at the CAFNEC office.
Please note that luggage will be going in a covered-in large trailer.  This will keep out water if it rains, but it is unlikely to keep out fine dust.  Therefore, it is advisable to wrap essential/sensitive items in a plastic bag.
ACCOMMODATION BEFORE/AFTER THE TOUR
The following are some accommodation options relatively accessible from the start and/or finish points of the Far North Wilderness Bike Tour.  Our crew will arrange for luggage pick-ups on the departure day closer to the tour date.
Budget Camping, Cabins and Hostels:
CAIRNS HOLIDAY PARK, 12-30 Little Street, Cairns (Close to Finish Point)Motel accommodation to Camping Sites. Phone (07) 4051 1467/ 1800 259 977, Fax (07) 4041 1929
CAIRNS CENTRAL YHA, (Central to CBD and near Start point) Affordable dorms. Phone (07) 4051 0772
THE NORTHERN GREENHOUSE,(Central to CBD and near Start point) Budget dorms and mid-range apartments available. Phone (07) 4047 7200
BOHEMIA RESORT CAIRNS, (Not far to CBD and near Start point): Phone: (07) 4041 7290
Mid-range Apartments:
CITY TERRACES, (Central to CBD and near Start point): Phone (07) 4051 8955
THE LAKES RESORT AND SPA, (next to Finish point): Phone: (07) 4053 9400
CAIRNS QUEENS COURT, (Central to CBD and near Start point): Phone: (07) 4051 7722
TROPICAL QUEENSLANDER, (Not far to CBD and near Start point): Phone: (07) 40311666